Welcome to the official web site of Prosperous Warrior Productions,
Home of How to Draw Comic Heroes GOD's Way.
This is the official site seeing as how no one volunteered to build the unofficial one!

This site is graphically intense, and is best viewed using Netscape 3.0 or higher.
Be sure to bookmark this page, you'll be glad you did!

Drawing book still $7.95!

Site last updated January 22, 2003. Click here for latest updates.




What is Prosperous Warrior Productions and what do we do? Glad you asked! Click here and find out!




Here's where you find out about the people who work and pray to make Prosperous Warrior Productions a reality and a blessing to all the young people we reach for Christ!




Do you enjoy comics? Do you like to draw? If so, come and learn How to Draw Comic Heroes GOD's Way! That's the name of our drawing class that teaches young artists how to draw comic heroes from a Christian perspective! In here you'll find out what it means to draw "GOD's Way", class pics, student art, and great drawing tips!




Each month we feature one of the great students who has taken our drawing class How to draw comic heroes God's way. One day we could be profiling you!




Come view our picture gallery featuring the art work of
Edgar J. Williams. There's all kinds of great stuff in here, pin-ups, sketches, and comic pages. Check it out!




Real Heroes is the official newsletter of Prosperous Warrior Productions. This newsletter is our newest venture and we're excited about all the things we've put in here just for you. Inside you'll find news, articles, upcoming events, and our exclusive interview with the Liberator!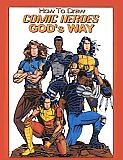 Check out our drawing book "How to Draw Comic Heroes GOD's Way". It's the first of many great products coming your way. Order yours today!




Now that you've browsed our site, what do you think? Got any questions, comments, praises, or criticisms? Read something that's got ya all excited and you just can't wait to tell us? Great! Send us an email and let us know, we'd love to hear from you!



Here's some great links. You'll find comic sites, ministries, free web graphics, and even a dash of politics to give it just the right flava!
All images and text are copyright © 1999-2003 Edgar J. Williams unless otherwise noted.

This page has been viewed
times since May 15, 2000.